"Sailing the Ocean Blue"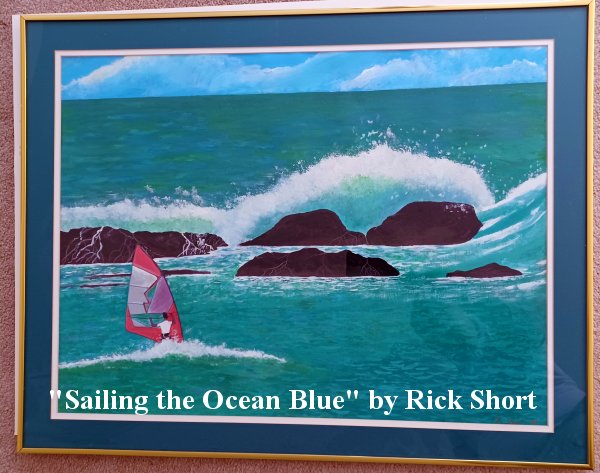 Price: - $850.00
About - I created this painting of a lone wind surfer surfing among the rocky coastline off the west coast and just wanted to capture the detail in the water with as much color and brush strokes as I could to reflect color but also give the painting an impressionistic feel. I used a lot of short brush stroked painting colors on top of colors to give as much detail to the water and waves as I could get away with to show some drama and action as the surfer rides along the crashing waves. Aquamarine is one of my favorite colors so I tried to pull out that color as much as possible and show shades of blue, green and aqua mixed together to add some character to the water as the ocean is the main character besides the surfer himself.
Medium:
- Acrylic Painting on paper, double matted and framed.
Style:
- Impressionism, Realism
Size:
- 22" high x 28" wide
Colors
- The primary colors in this painting are shades of blue, green, aquamarine, brown, white, red, purple and gray.
Subject
- beach, ocean, sea, seascape, sunrise, morning, sun, outdoors, water sports, surfing, wind surfing
Shipping
- Since this is an original painting, it comes shipped wrapped in protective plastic and a sturdy cardboard box for safe shipping anywhere in the world.