"Risen As He Said"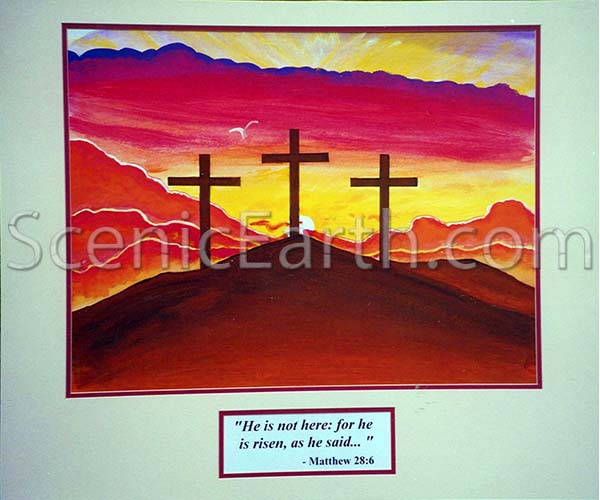 Price: - $1250.00
About - I created this painting of the three crosses on Mount Calvary as a commissioned work from a group of about 15 fellow employees at one of the largest companies in Boca Raton, Florida in 1997. The group wanted to put together a display showing the true meaning of Easter and they requested me to create a painting that would serve as a backdrop painting to draw attention to the exhibit. This painting was one of the fastest paintings I have ever made. I completed this painting in just two nights, working on it at night when I came home from work. It has been one of my most popular paintings, no doubt because of the subject matter of what Christ did for us. He became the ultimate willing sacrifice for our sins. The beauty of the story is not that He died for our sins but He arose from the grave three days later, just as He said He would. Proving that He was the son of God and the one way to salvation and forgiveness of sins to put us right with God.
Created using Acrylic paint on poster board, this painting shows the three empty crosses where Jesus and the two thieves were crucified at a spot outside Jerusalem called Golgotha, which in Aramaic means "place of the skull". The Latin word for skull is calvaria, and in English many Christians refer to the site of the crucifixion as Calvary or Mount Calvary.
This painting comes double matted with a creme colored matte border with burgendy red trim matte border with the verse Matthew 28:6 under the painting. This painting is framed in a brass metal frame under plexiglas that is shatter resistant and light weight so it will not be damaged if it should fall or be dropped.
Medium: - Acrylic and enamel painting on paper, double matted and framed with a brass metal frame under plexiglas.
Style: - Realism
Size: - 27" high x 32" wide
Colors - The primary colors in this painting are brown, black, orange, red, purple, yellow, white.
Subject - Jesus, The Cross, Three Crosses, Easter, Salvation, New Testament, Gospel, Golgotha, Crucifixion.
Shipping - Since this is a large sized original painting, it comes shipped wrapped in protective plastic and a sturdy cardboard box for safe shipping anywhere in the world.