"The Garden of Dreams"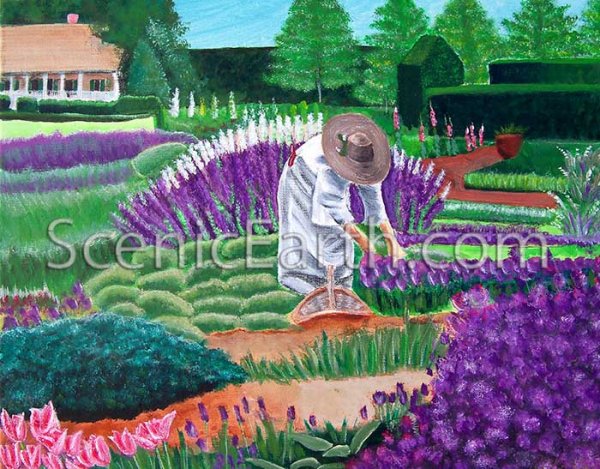 Price: - $725.00
About -This painting is an original Acrylic painting on stretched canvas measuring 16" x 20" in size featuring a woman in a straw hat and white dress picking flowers to put in a basket while tending her garden filled with lavender, purple, pink and green flowers, shrubs and plants surrounded by a privacy hedge and rows of trees with a one story house in the background.
I painted this painting as a tribute to my mother who always had the most beautiful flowering gardens, shrubs and trees in our home. Every spring the azaleas would bloom with so much color that people would stop and take photographs from the street and the yard would come alive with color.
Medium:
- Acrylic Painting on stretched canvas
Style:
- Realism, Impressionism
Size:
- 16" high x 20" wide
Colors
- The primary colors in this painting are shades of lavender, purple, pink, green, blue and shades of brown.
Subject
- Landscape, Rural scenery, Garden, gardening, women, figures, flowers, shrubs, plants, lavender, grass, trees, outdoors.
Shipping
- Since this is an original painting, it comes shipped in a cardboard envelope and box for safe shipping that cannot be bent or folded during handling and delivery for safe shipping anywhere in the world.