"The Shadow Walker of Nags Head"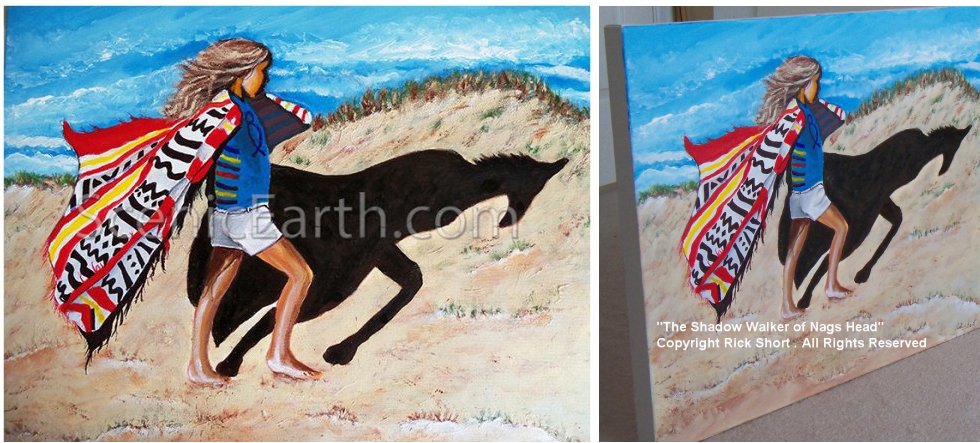 Price: - $725.00
About this Painting - There is always something special about going to the beach and summer when you are a child. This painting not only captures the imagination of a child playing at the beach thinking about her friend and counterpart but captures the innocence of childhood. This is a Southwest style art painting with lots of texture, color, shadow and lighting. The subject is a little girl walking along the beach and dunes of Nags Head, North Carolina. As she explores the beach, she sees her shadow and imagines the body of a horse peering out from her own long shadows. Whether it be the spirit of Nags Head calling out to her, a love of horses or a dearly beloved pet at home, her Spirit shadow keeps her company as she plays at the beach.
Medium:
- Original Acrylic painting on stretched canvas.
Style:
- Southwest Art, Realism
Size:
- 16" high x 20" wide
Colors
- The primary colors in this painting are beige, tan, shades of blue, red, purple, brown, black, yellow, green and white.
Subject
- Girl, child, children playing, imagination, beach, Nags Head, North Carolina, Beach, sand, dunes, horse, shadow, walker.
Shipping
- Since this is a large sized original painting, it comes shipped wrapped in protective plastic and a sturdy cardboard box for safe shipping anywhere in the world.